Vape Juice Shop | Cheap eLiquid | Best 100mL eJuice Flavors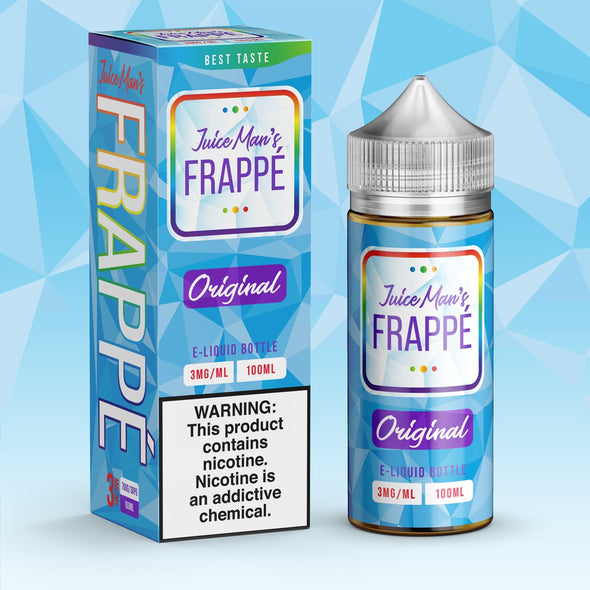 100mL Vape eJuice and eLiquids

Best 100mL vape juice and eLiquid of 2020.
Juice Man is the largest manufacture and wholesale vape distributor for 100mL vape eJuice liquids and flavors. Our best tasting 100mL eLiquids and vape juice flavors are available in 0mg/ml, 3mg/ml, 6mg/ml & 12mg/ml. We always recommend our customers to vape products with 0mg/ml. Our 0mg/ml products contain NO nicotine. Shop our online vape store for the best prices on 100ml eliquid and 100ml ejuice. Some of the vapor ejuice flavors that we make include Frappe, Frappe On Ice, ZoNk Watermelon Strawberry, ZoNk Mixed Berry, ZoNk Pink Lemonade, ZoNk Cotton Candy, ZoNk Orange Mango, Mad Man, Snow Man On Ice, Cherry Lime Fizz, Cherry Blue Fizz, and much more. Our 100mL vape juice flavors can be found in over 1,000+ smoke shops and vape shops global. Typically we ship your vape juice orders via USPS, UPS, Fed Ex, or DHL. Some of the countries we ship our best tasting premium vape ejuice flavors to include but are not limited to: USA, Canada, France, Spain, Australia, UK, Iceland, Sweden, Germany, Poland, Serbia, Kuwait, Dubai, Iran, Iraq, India, Qatar, Israel, Jordan, Saudi Arabia, Italy, Portugal, Morocco, Egypt, Kazakhstan, Uzbekistan, Finland, Denmark, Frankfurt, London, Chile, Peru, Colombia, Mexico, Russia, Ukraine, Japan, South Korea, China, Thailand, South Africa and much more!
We offer only the highest quality vape juice products for Adults only. All customers are required to upload I.D. in order to prove they are the legal age to vape nicotine products. Our vape ejuice products typically ship out within 1-2 business days. We recommend using a 0mg/ml eliquid product. 
What is Vape Juice? 
Vape Juice is a common word that's used among vapers for referring to the nicotine e-liquid products. Vape Juice is the fluid that fuels electronic cigarettes. E-liquid creates vapor which you inhale then exhale. There are many sizes that vape juice comes in such as 30ml ejuice, 60ml e-liquid and 100ml vape juice. Vape juice also comes in many strengths such as 0mg eliquid, 3mg ejuice, 6mg vape juice and 12mg vape ejuice. 
What is the best tasting e-liquid? 
Flavors are subjective to the users opinion. We believe that Juice Man produces the best tasting and most affordable e-liquid products. Juice Man imports it's flavor ingredients from across the globe. Some of our flavors contain flavoring ingredients from Italian flavor manufacture FlavourArt, Canadian flavor manufacture LorAnn. We also use domestic flavoring from the California companies Flavor West and The Flavor Apprentice. 
If you're looking for cheap vape juice you should probably go somewhere else. Juice Man delivers quality flavors in layers that will have you instantly hooked from your first puff.