30mL Nicotine Salts ( Nic Salt Vape Juice )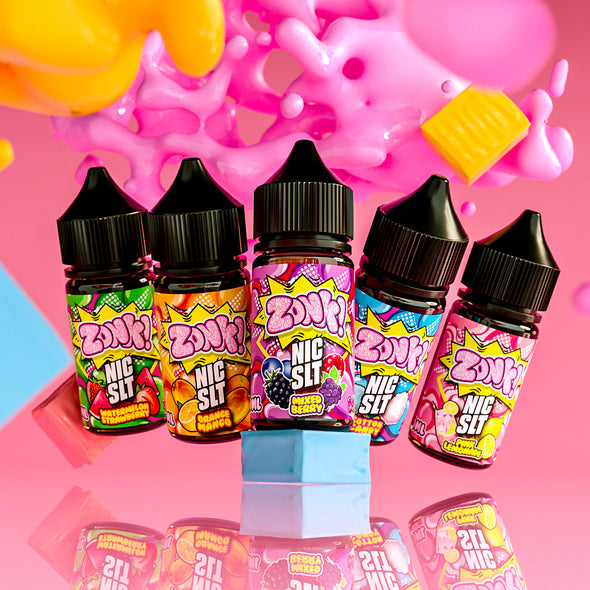 NIC SLT®
Best Nic Salt Vape eJuice and eLiquid

Juice Man is the largest manufacture and distributor of premium nic salt vape ejuice products. Our Nic Salt juices are available in 35mg salt nic and 50mg salt nic. Make sure to subscribe to our mailing list for vape coupon codes. We usually give away nic salt discount codes every other week! 
Most nicotine salt vape juices work great in small pod vape devices and are available in the following flavors: Unicorn Frappe, ZoNk Watermelon Strawberry, ZoNk Pink Lemonade, ZoNk Orange Mango, ZoNk Pink Lemonade, ZoNk Cotton Candy, Mad Man, Snow Man On Ice, Cherry Lime Cola, Cherry Blue Cola, American Cowboy, Boss Man Chocolate Tiramisu, Boss Man Caramel Vanilla Tobacco, Boss Man Russian Cream Tobacco ( RCT ), Boss Man Banana Crème Brûlée, Boss Man NY Strawberry Cheesecake. Nic Salt flavors are intended for small low wattage devices. To learn more about Nicotine Salts click this link. 
WARNING: This product contains very High Nicotine content, not intended for Sub-Ohm use


WARNING:
 NOT FOR SUB-OHM USAGE. ONLY FOR LOW WATTAGE MOUTH TO LUNG DEVICES.